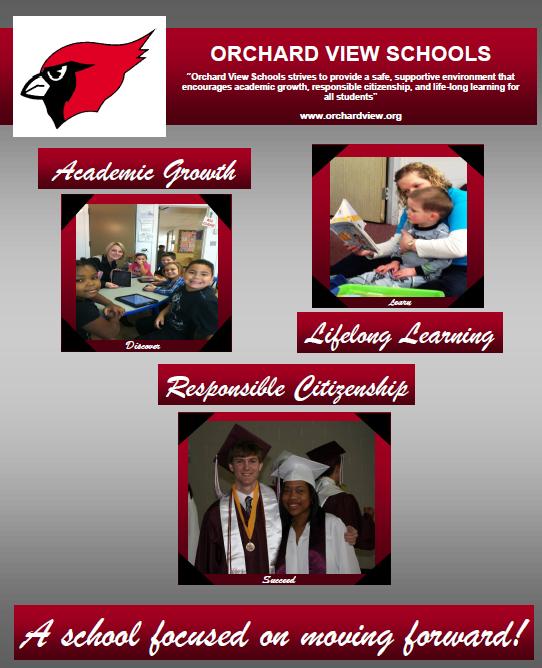 Orchard View Schools is located in Muskegon Township, just a few short miles east from the beautiful shoreline of Lake Michigan. The Muskegon River flows through the northern corner, making our community a desired location for families. Our qualified and dedicated staff provide services to over 2,600 students enrolled in our programs. Orchard View Community Education reaches out to over 30,000 individuals in the community with education, leisure classes and community resources.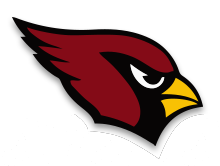 Orchard View Schools believes in supporting the family as a whole. We provide an environment that promotes problem solving, critical thinking, and encouragement for all to reach their full potential. Once again, we look forward to another successful year here at Orchard View Schools!
Go Cardinals!
Jim Nielsen, Superintendent

Our Mission:
"Orchard View Schools strives to provide a safe, supportive environment that encourages academic growth, responsible citizenship, and life-long learning for all students."



Our Vision:
"Preparing all students to meet the demands of an ever-changing world"

Our Purpose Statement:
DISCOVER • LEARN • SUCCEED

Orchard View High School

16 North Quarterline, Muskegon, Michigan 49442
Ph: 231.760.1400 Fax: 231.760.1407

9th Grade • 10th Grade • 11th Grade • 12th Grade
Academic Planning & Guidance
Accredited by North Central Association (NCA)
JV/Varsity Athletic Program
Band • Marching Band • Jazz Band
Breakfast Program
Career Planning
Career Tech Center Classes
Child Development Classes
Choral Music
Close Up
College Access Assistance
Computer Automated Design (CAD)
Computer Programming
Credit Recovery Program
Dual Enrollment
Early College

Foreign Language Classes
Full Time College Advisor
Honors Classes
National Honors Society
On-Line Class Options
Quiz Bowl
Reading and Math Intervention
Robotics Club
Saturday School Assistance
Student Leadership
Summer Work Program
Show Choir
Theater Productions
TV Production Studio
Visual Arts Program
Technology Enhanced Teaching & Learning

Orchard View Middle School
35 South Sheridan, Muskegon, Michigan 49442
Ph: 231.760.1500 Fax: 231.760.1506
6th Grade • 7th Grade • 8th Grade

Accredited by North Central Association (NCA)
Advanced & Accelerated Program
Advisory Period
After School Activities
Anti-Bullying Program
Area 51 8th/9th grade Alternative Program
Athletic Program
Band Program
Breakfast Program
Career Exploration
Chess Club
Choir Program
Computer Classes
Destination Imagination
Endurance Adventure
Environmental Awareness
Girls on the Run

Hands-On Educational Trips
Honor Roll Celebrations
High School Credit for selected classes
Honors Classes
Lake Michigan Research Program
Lego Robotics Class
Math / Reading Tutoring
Outdoor Education Camp
Peer mentoring
Positive Behavior Awards
Reading & Math Intervention
Recreation / Leisure Activities
Response To Intervention (RTI) Support
Student Service/ Leadership Clubs
Technology Enhanced Teaching & Learning
Visual Arts Program

Cardinal Elementary School
2310 Marquette Avenue, Muskegon, Michigan 49442
Ph: 231.760.1700 Fax: 231.760.1655
2nd Grade • 3rd Grade • 4th Grade • 5th Grade

2nd Grade Interim Assessment Pilot
3rd grade Cabbage Program
4-H Tech Wizards after school program
4th Grade NEAP exam
4th Grade recorder program
5th Grade "Reality Store"
5th grade community service activities
5th Grade GVSU trip
After school math program
Book Fairs
Bullying/Harassment Policy
Bus Safety, Fire Safety, Internet Safety, Snowplow Safety and
Personal Safety presentations
Candy Cane Shop
Cardinals Can! Fundraiser - walking laps around the track
Christmas Craft Sale
Classroom guidance with the school counselor
Clothing Closet
Common grade level assessments
Compass Learning software, Accelerated Reader, and
Type to Learn software in the labs
Destination Imagination - competition that provides educational programs for students to learn and experience creativity, teamwork and problem solving
Development of the east playground
Differentiation of instruction among grade levels
End of the Year Volunteer Dinner
Family Resource Center—DHS Pathways to Potential
Field trips
Fundraiser Mega Party
Girls on the Run
Grade Level Concerts
Hearing & Vision Screening
High School Lead Students
Holiday food drive
Journey Network courtyard cleanup

Jumpin' Jupiter fund raiser
Junior Achievement
Lakeshore Lung Presentations
Library and library research room
MAH (Math at Home) program
March Is Reading Month Activities
Monthly family activities sponsored by the PTO and PCI committees:
Pumpkin Decorating
Craft Night & Cookie Decorating
Fall Family Picnic
Literacy Night and Family Read-In
Math Night
Thanksgiving Lunch
Spring Picnic Lunch
Orchard View Archives Room
Paraprofessionals for reading & interventions
Parent reading workshops
Parent/Teacher Conferences
Partnership with the Police Dept. (lockdowns)
Perfect Attendance Awards
Personal Best Celebrations
Positive Behavior Support Program
Principal Reading Challenge
PTO meetings
RAH (Reading at Home) program
Reading Caravan program with the Muskegon Lumberjacks
Recycling Program
School spirit days
School Store
Small group sessions with the school counselor
Smile Dentist Program
Spring MEAP Test
Student Art Show at the Muskegon Art Museum
Student of the Month
Student Success Planning
Talent Show
Texas Roadhouse Box Top lunch
Universal breakfast program
Visits from military veterans

Orchard View Early Elementary School
2820 MacArthur Road, Muskegon, Michigan 49442
Ph: 231.760.1850 Fax: 231.760.1840
Pre-Kindergarten • Kindergarten • 1st Grade
All Day Kindergarten
Before & After School Care
Breakfast & Lunch Programs
Book Fairs
Bullying/Harassment Policy
Bus Safety, Fire Safety, Internet Safety, Snowplow Safety and Personal Safety presentations
Cardinals Can! Fundraiser - walking laps
Christmas Craft Sale
Classroom guidance/school counselor groups
Clothing Closet
Common grade level assessments
Differentiation of instruction
Easter bunny breakfast
End of the year celebrations with families
Fall Family Picnic
Family Resource Center
Field trips
Fundraiser Mega Party
Grade Level Concerts
Head Start/preschool transition planning
Hearing & Vision Screening
High School Lead Student volunteers
Intervention Program for Kindergarten
IPAD Learning Stations
Jumpin' Jupiter fund raiser
K+ program
Library and reading program
Literacy Night
March Is Reading Month Activities


Musical Education Program
Math Night
New preschool playground
New Computer labs
Parent reading workshops
Parent/Teacher Conferences
Physical Education Program
Partnership with the Police Dept.(lockdowns)
Partnership with the Police Dept.
Partnership with the Fire Dept.
Perfect Attendance Awards
Personal Best Celebrations
Positive Behavior Support Program
PTO sponsored activities
RAH (Reading at Home) program
Muskegon Lumberjacks Reading Program
Recycling Program
Response To Intervention (RTI) Support
School spirit days
Smile Dentist Program
Student of the Month
Student Success Planning
TAT – teachers assisting teachers
School Improvement Team
Senior grandparents dinner
Spring Picnic Lunch
Supper with Santa
Summer Math & Reading Programs
School Wide Positive Behavior Program
Thanksgiving Lunch
Visual Arts Program
Volunteer Tutoring Program